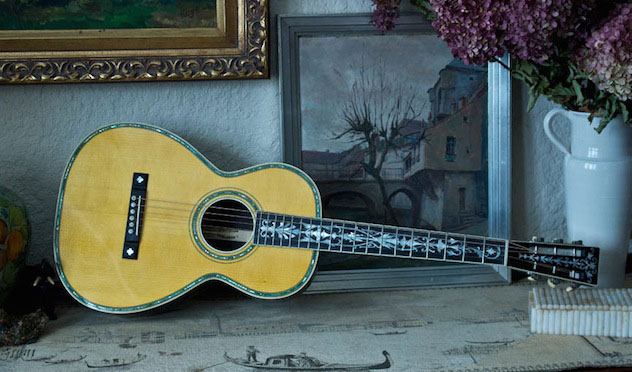 Johann (Hans) Brentrup has been a woodworker all his life and a guitar and mandolin maker since the 1970's. In the 1990's he began building mandolins exclusively and has built over 250 mandolins and mandolas, earning the reputation of being one of the finest mandolin builders in the United States.
In the early 2000's Hans returned to building fingerstyle guitars. His instruments are heavily influenced by guitars of the 1920's. He found Larson Brothers, Oscar Schmidt Stella and Holzapfel instruments most appealing, and has taken some of their innovations and combined them with his own design elements to produce some of the finest new old time guitars available.
Hans' guitars feature highly arched backs and tops are cylindrically arched. Laminated wood bracings, tone tubes, X, ladder and hybrid bracings, and hand made purflings taken from the teen's & 20's are some of the other features of the instruments.
Please browse the pages and you will see the models and options of these modern "vintage" instruments.
Hans has written a short concise workbook for basic builders detailing building of his laminated X braced and Ladder braced 6 and 12 string guitars. Packed with over 90 photos detailing steps that are pertinent to the construction and providing many exact measurements that other guitar books omit. The book is spiral bound to lay flat on the workbench so that you may follow along step by step.
Price: $176, including shipping in the US. To order, email johann@brentrup.com.