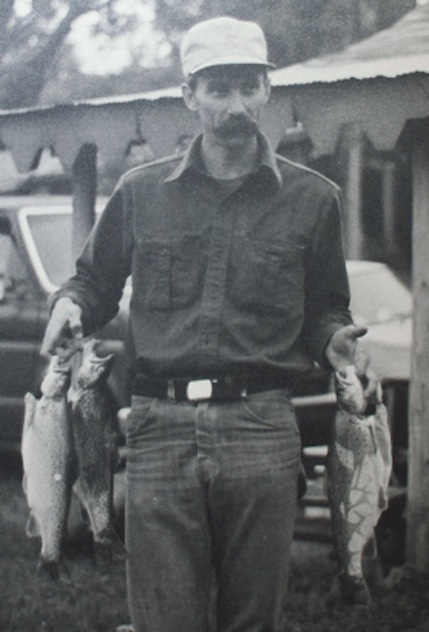 Bob Bjorke has been a longtime friend and flyfishing companion. He has been playing traditional blues for as long as I can remember and learned the tunes the old fashion way...straight from the vinyl. His interpretations of blues tunes are based largely on maintaining the original feeling of the tunes rather than technical perfection. He has a sense of timing for this music that few others have.
White Oak GC-6
Oak parlor
0-45
0-45 #2
TO RETURN TO THE SOUND SAMPLES PAGE, HIT THE BACK BUTTON ON YOUR BROWSER.
Dakota Dave Hull has been a friend of my wife and I for many years. He has been a Minnesota fixture, and has performed all over the world with the likes of Utah Phillips, Dave Van Ronk, John Renbourn, Paul Geremia, John Koerner, Norman Blake and Doc Watson. His music is a uniquely personal blend of jazz, ragtime, folk, blues and western swing. Van Ronk called him "One of the best guitarists in the world". More info about Dave here:
Dakota Dave Hull
He graciously recorded some clips on my guitars.
Grand Concert GC-6 White Oak/Red Spruce
https://www.youtube.com/watch?v=R1AetWKkSHE
Grand Concert GC-6 Hormigo/Red Spruce
https://www.youtube.com/watch?v=Ua4ylcF-T5I
Stahl Presentation Guitar (Concert) BRW/Red Spruce
https://www.youtube.com/watch?v=


Parlor Guitar White Oak/Red Spruce
https://www.youtube.com/watch?v=cgJkAnB4EAI
Grand Concert GC-6 BRW/Red Spruce
https://www.youtube.com/watch?v=AUom7ZcMzFw
Stelle Auditorium 12 Ribbon Sapele/Red Spruce
▶
J. Brentrup Stelle 12 - YouTube
Dakota Dave's very own GC-6 White Oak/Red Spruce
▶
Dakota Dave Hull's GC-6 White Oak Six String - YouTube
▶
Dakota Dave Hull J. Brentrup GC-6 white oak 2 - YouTube
▶
Dakota Dave Hull J. Brentrup GC-6 White Oak 3 - YouTube