I guess there comes a time in a builder's life when you realize it is finally time to part with your favorite instruments. Some I have had for many years, dreading the time when I would have to part with them, others are fairly new, but so revered that you consider them your best work. It is very difficult and rationalizing the hurdle is something you just keep wanting to put off.

I'm at the point where I just don't have the muscle, energy and dexterity to play them anymore, so, I will be putting them up for sale over the next several weeks on the website.

I can only hope that each instrument finds a good home, is played and enjoyed. I will be listing both guitars and mandolins/mandolas.



1922 GIBSON F4 MANDOLIN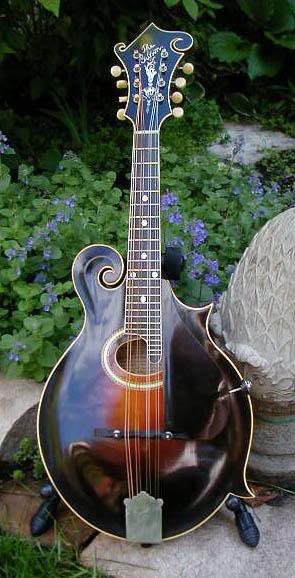 My personal opinion is that the Gibson F4 is the most beautiful of all of Orville Gibson's F style creations. This particular one is extra special because it features the "Cremona Brown" finish that was applied to about two hundred 1921-22 F4's. It was built in 1922 and features a "double flowerpot" on the peg head.
It is in extremely good condition for its age. I removed the original frets (they were like new), planed the finger board flat and re-installed the same frets. The tonality of the instrument is wonderful, sweet but powerful as F4's could be. Charlie Derrington and I marveled at the tiny quilt of the maple back and figured it was probably silver maple. It is all that someone looking for an F4 could want or imagine. Everything on the instrument is original except for the bridge saddle. The original was split. It is very easy playing and has been a wonderful friend to me for many years.
SOLD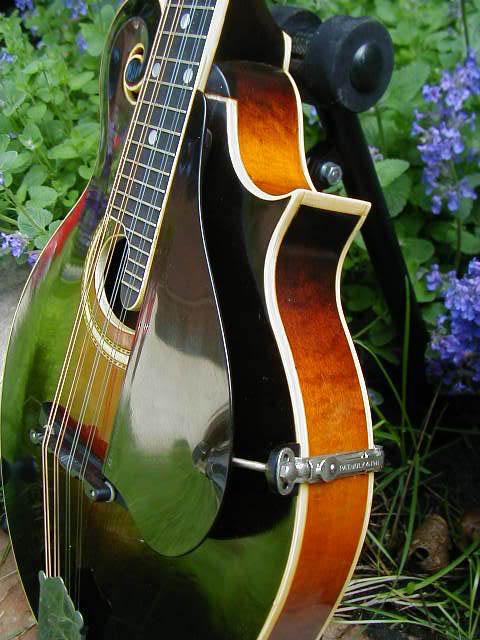 F5C MANDOLIN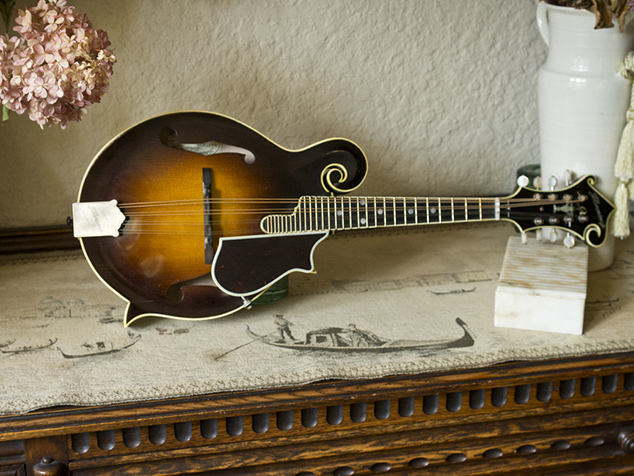 The F5C (classic) was my interpretation of a 1923 Loar F5. Most were finished as new, but a few, including this last one that I built, was intentionally lightly distressed in finish and hardware. Nice thing about an instrument that is distressed well (I saw too many that were overly distressed) is that it becomes your "pal". You are not afraid of the first scratch as in a new instrument or car. It is built with a Red Spruce top and Red Maple back and ribs, as were originals.
The instrument is built from my knowledge of 4 Loar's measurements and the three year intimate experience I had with Charlie Derrington's Loar. It was built with my normal "hand graduated" techniques as were the originals, instead of modern CNC built instruments. I always felt that CNC built instruments were quite sterile sounding when compared to hand graduation.
Folks that have played it say that the tonal qualities are excellent and some have speculated that a new Loar must have sounded quite like it back in '23. The instrument is loud and rings all the way up the neck. It can be pretty strong with new strings, but settles down nicely with a few weeks playing, as most good F5's do. Comes with a rectangular case.
The instrument is being sold as used, $10,099, plus shipping.


3 POINT MANDOLIN
At one point, I bought an old Gibson 3 point mandolin. It was one of the cheaper ones with a plain peg head and a black top. It seemed a good instrument for old time tunes, had a different sound than the typical F-5. I decided to build them both in the 12 fret versions and the 14 fret hybrid.
This blond 3 point is the 14 fret, hybrid variety. It has the oval hole/transverse brace sound, but is more powerful than the 12 fret version. Instrument features a blond red spruce top, flamed maple dyed burst red maple back and sides and a full "torch and wire" peg head with Schaller tuners and the old Handel inlayed ivoroid buttons. Instrument is in excellent condition and comes with custom 3 point Calton case and is sold used.
SOLD


3 POINT MANDOLA
I also decided to build a 3 point mandola. Don't know if Orville ever built one, but I really liked the looks of 3 points. This is the usual 12 fret instrument, has a wonderful, sweet oval hole sound, powerful tone. It features a black dyed Sitka top and red burst maple back and sides. The peg head features old Handel buttons on Schaller tuners and the "torch and wire" inlay. Nearly flawless, comes with a custom Calton case. Sold as used.
Price: $12,099, plus shipping.