I guess there comes a time in a builder's life when you realize it is finally time to part with your favorite instruments. Some I have had for many years, dreading the time when I would have to part with them, others are fairly new, but so revered that you consider them your best work. It is very difficult and rationalizing the hurdle is something you just keep wanting to put off.

I'm at the point where I just don't have the muscle, energy and dexterity to play them anymore, so, I will be putting them up for sale over the next several weeks on the website.

I can only hope that each instrument finds a good home, is played and enjoyed. I will be listing both guitars and mandolins/mandolas.



GRAND CONCERT 12
The Grand Concert 12 string was my standard 12 string, more like the modern instruments. It was the most popular of the 12's because it sounded more like the usual fare. This one was originally strung with heavy strings like the Stellas, tuned to B, but I decided to string it with lights and ended up tuning it to D.
Size of the box is the same as the 6 string, lower bout 15-1/4", waist 8-3/4" and upper bout 10-1/2", scale is 25". Top is thicker red spruce, with my ladder bracing, and a Honduras mahogany back (with laminated bracing) and ribs. It has a solid, lovely, sweet sound and is very easy playing. The instrument is sold as used, nearly new and nearly flawless.


BBQ BOB STELLA 12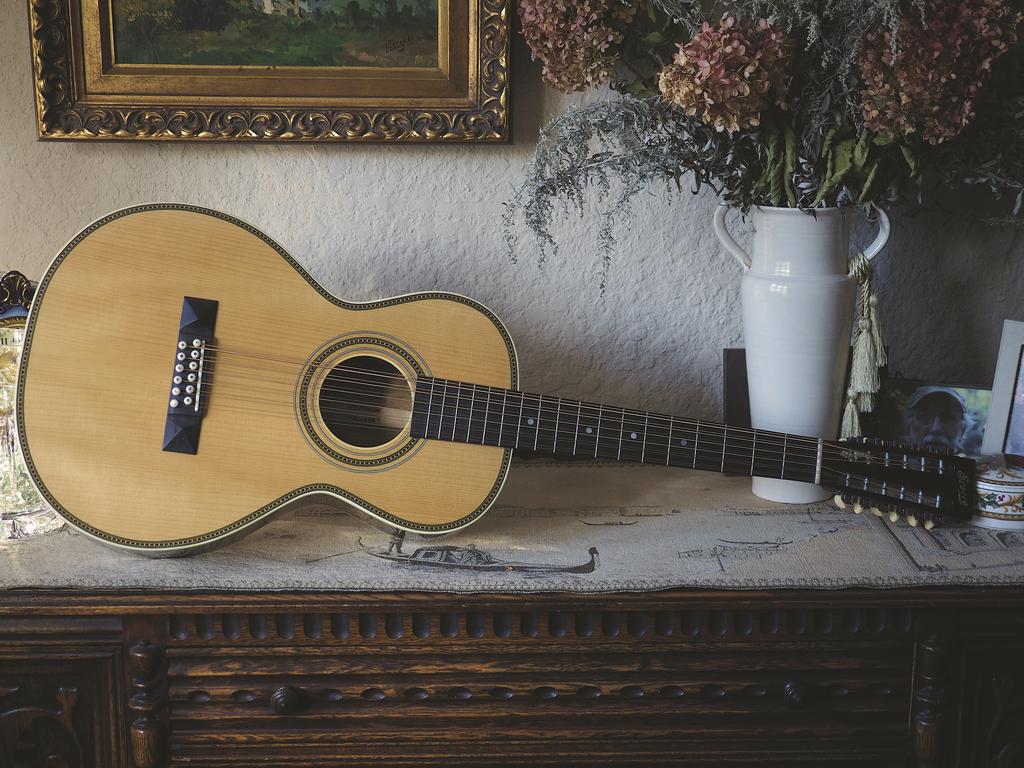 The BBQ Bob type Stella 12 is the smaller of the two 12 strings, the "Leadbelly" 12 being the Grand Concert of the Stella's. I decided to use red spruce and white oak instead of mahogany. White oak is a very good wood for 12 strings as it does not have a lot of complexity, something you generally don't want in a 12.
I used my typical 3 transverse Stella bracing on the top and a laminated 4 brace back. I also decided to use a BRW bridge patch on the top instead of my usual spruce patch. The instrument has all the "high" trimmings of the typical high end Stella 12 of the 30's-40's.
Specs are 26" scale, box is 18" long and 13-1/2" at the lower bout. Instrument is tuned to "A" with heavy .070-.015" strings. While the sound is not quite as voluminous sounding as the Leadbelly Stella, it has the sought after blues "cut" and is quite loud for a Concert size 12. As with the Leadbelly Stella, a set of medium strings might work tuned to B or C. Stunning tonal qualities and easy playing.
Sold as used, nearly flawless condition.





MINI-JUMBO-12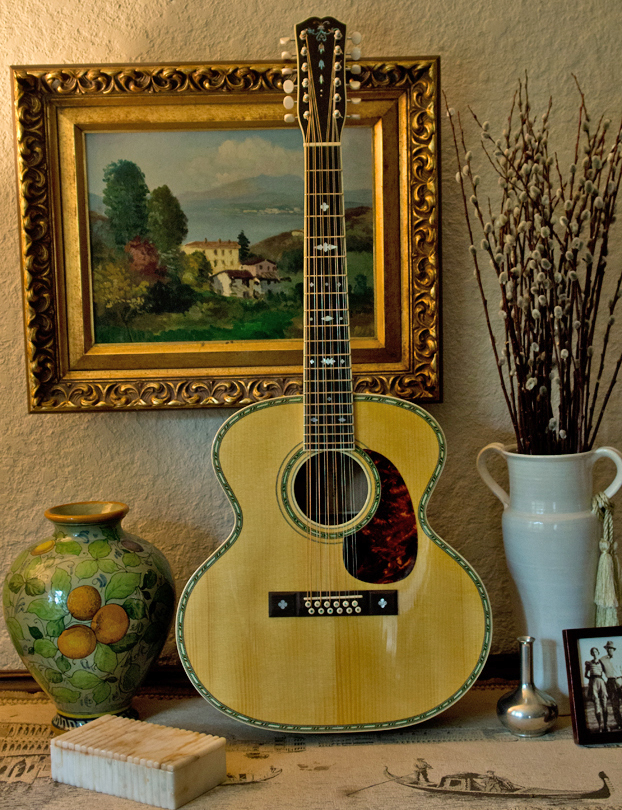 The Mini-Jumbo-12 is my 12 string version of the old Prairie State Jumbo instrument. I had decided to build a short scale version with 23" scale. By adjusting the box size to a 17" length and 16" width lower bout, a 14 fret neck worked out perfectly.
The instrument is excellent sounding with a red spruce top and white oak back and is about 10 years old. It is by far, one of the easiest instruments I have ever played, with a big sound for such a compact guitar. It features a special set of tuners built from Grover Stay-Tites and mandolin plates to enable a smaller peg head and also turn the 12 string set into 18/1 gearing. Strings are my usual .070-.014" tuned to B or B-flat but I am sure it could be strung with lights and tuned to D, maybe even E.
I also decided to build it with my laminated combination X and ladder bracing on the top, laminated back bracing and tone tubes. It features Larson top and back center purfling and ivoroid binding.
Sold as used.